Water Damage in Troy
If your property has been rocked by a burst pipe, it is natural to worry about what comes next. Whether the water damage emergency has been caused by plumbing or heavy rains, it is important to take care of the flood cleanup as soon as possible. That's when you should call the technicians at 911 Restoration of Albany.

The techs are IICRC certified with years of experience, so they can handle any kind of water damage emergency with ease. Your flood cleanup will be handled with all of your needs in mind. A free visual inspection for property owners only is even offered. For the water extraction services in the business, call 911 Restoration of Albany today.

Water Remediation Services in Troy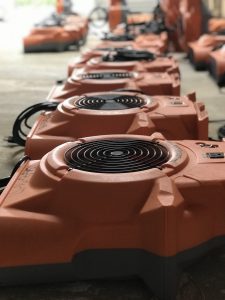 When it comes to flood cleanup on the property, the last thing you want to do is delay. That's why you should call the techs at 911 Restoration of Albany. Same-day services are offered, and they are available around the clock for any water remediation. You will never be kept waiting for water removal services when you need it most.

Not only are the water damage restoration services timely, they are effective. The techs offer a complete property restoration for water damage emergencies, including possible boarding up services and roof repairs. From top to bottom, your property will be taken care of in their hands.

The techs understand that flood cleanups can be a worrying time for property owners, but they do everything that they can to provide you peace of mind. They consider water extraction services to be a Fresh Start for property owners, and they work hard to provide you with an optimistic attitude the entire time. Both you and your property will be treated to the signature Fresh Start attitude.

Not only do the techs understand your needs during the water cleanup, they are trained to handle anything that is thrown their way. Complete structural dehumidifying services are offered when needed during the flood cleanup, and any valuable property is placed to the side to ensure that it remains intact.

If you are looking for water remediation services that put you and your property first, look no further. Both your property and your emotional needs will be handled during the water damage restoration. For the best flood cleanup services after a burst pipe, contact 911 Restoration of Albany today.

Mold Removal After a Flood Cleanup
Sometimes after a burst pipe on the property in Troy, mold can arise on the property. These spores can pop up as quickly as 24 hours after a flood on the property, so it's important to take care of them immediately. For trained mold removal techs that arrive on the scene as soon as possible, call our team of trained mold decontamination specialists.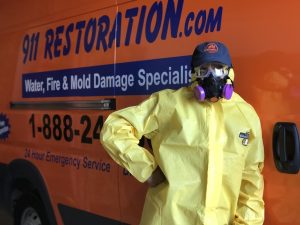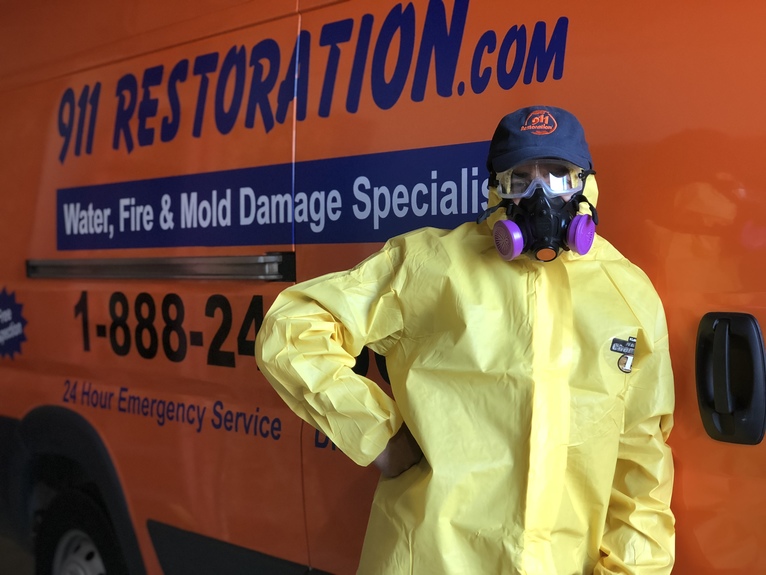 The mold removal specialists continue to put your emotional needs first during the inspection. They understand that mold can be particularly hazardous to your health, which is why they want to tackle it as soon as possible. Leaving mold in the basement or bathroom can cause asthma or allergy symptoms, so it's important to leave the remediation to the professionals.

The inspection techs continue to go above and beyond during the decontamination. The techs use hazmat suits and infrared technology to find as many spores as possible. Mold thrives in dark, damp environments, but the specialists are trained to find the fungus and to remove it immediately.

Burst pipes and plumbing leaks can not only cause water backups on the property, they can cause mold to thrive as well. If you have spotted mold on the property in Glenmont, call the techs immediately. They respond to all remediation calls within 45 minutes, so you never will be kept waiting for important decontamination services.

Not only do the removal techs put your emotional needs first, they also take your of your property with the utmost care as well. Any clean belongings will be placed to the side to ensure that they remain that way during the remediation. From top to bottom, the denomination will be thorough. Both you and your property will be treated to a Fresh Start during the inspection.

If you are looking for a team of trained technicians that understand your needs during a mold remediation, look no further. The mold removal techs put your emotional needs first during the process and treat your property with an optimistic attitude. For comprehensive mold remediation services in Troy, call 911 Restoration of Albany today.

Servicing the areas of Albany, Alcove, Altamont, Amsterdam, Averill Park, Berlin, Bernem, Buskirk,Castleton on Hudson, Clarksville, Coeymans Hollow, Cohoes, Cropseyville, Delanson, Delmar, Duanesburg, East Berne, East Greenbush, East Nassau, Feura Bush, Glenmont, Greenville, Guilderland, Hannacroix, Hoosick Falls, Latham, Medusa, Melrose, Nassau, Petersburg, Poestenkill, Ravena, Rensselaer, Rensselaerville, Rexford, Rotterdam Junction, Sand Lake, Schaghticoke, Schenectady, Schenectady County, Schodack Landing, Selkirk, Slingerlands, Stephentown, Troy, Valley Falls, Voorheesville, Waterford, Watervliet, West Coxsackie, West Sand Lake, Westerlo, Wynantskill and surrounding areas.