Sewage Cleanup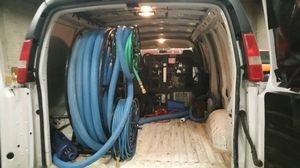 Sewage backups can surely put a damper on your day, but when you have 911 Restoration Albany constantly standing by your bad day can actually end up being a fresh start.
We are available 24/7/365 to assist you on a moment's notice, which is especially important when dealing with black water.
Black water is the other term for sewage and it is considered to be a category three water. This category of water is the most dangerous because it is filled with toxins, fecal matter, bacteria, and chemicals that can all affect your health.
The safest way to handle a sewage backup is to simply keep away from the area and hire professionals to come cleanup the mess. We have the proper gear and equipment to safely and thoroughly remove all the black water.
When you hire us you can rest assured that the most experienced workers are on the job. We work with IICRC certified technicians who are expertly trained in handling all categories of water and water damage.
So, when black water has invaded your home or business, call our sewage backup cleanup Albany specialists and we will start the remediation process off with a free visual property inspection.
Understanding How Blockages Occur In Sewer Lines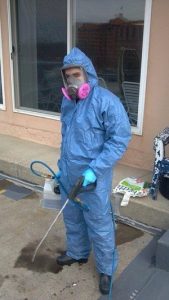 Sewage has the ability to backup into your property by various means, some which you can prevent and others that you really have no control over.
The roots of trees and shrubs are always looking for moisture and often times that leads them to your sewer line. They can sense the smallest crack in a pipe and make their way inside. Once the roots begin to grow, they can cause blockages and other damage that may cause a backup.
A blockage can also occur at city's sanitary main. If it is not detected in time then it can cause raw sewage to backup into commercial and residential properties connected to it.
You can cause blockages in your home's sewer line by flushing things down the toilet that are not meant to be flushed. If there is a clog and you continue to try to use the toilet, then the sewage is just going to come right back up and end up on your bathroom floor.
The bottom line is that no matter how sewage ends up in your property, you can count on 911 Restoration Albany to thoroughly clean and sanitize the area. So, call us the moment you detect a clog or begin experiencing a backup and we will get there quickly to begin cleanup services.
Ways To Prevent Sewage From Overflowing Into Your Property
Even though you can't always prevent sewage backups, there are definitely actions you can take to reduce your risk of experiencing one in your property.
Disposing of grease properly is an easy way to prevent a clog in your plumbing. Never pour hot grease down the drain, because it will harden up and form a blockage. Instead, pour it in a container and throw it away once it has cooled.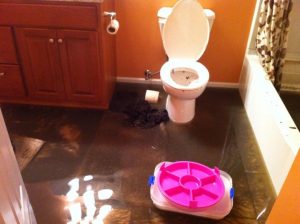 Only use your toilet to flush toilet paper. It can be tempting to toss paper towels, diapers, baby wipes, and sanitary products in there, but these will eventually clog up the line and cause a sewage backup because they do not deteriorate with time.
If you live near many trees, you may want to consider replacing your sewer line with a plastic pipe. This creates a better defense against wandering roots that are looking for water in the pipes.
By following these steps, you will greatly improve your chances of prevent clogs and backups. However, there may come a time when you will still need professionals to come remediate an overflow and when you do, we want you to call our sewage backup cleanup Albany technicians immediately.