Water Damage and Mold Removal in Schenectady County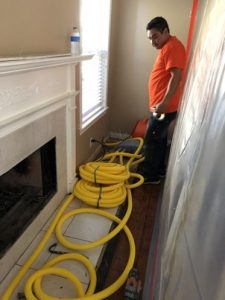 Every resident of Schenectady County knows the struggle to keep warm during the bone-chilling winters of the Northeast. Unfortunately, the frigid climate poses a challenge to local properties, too. From ice storms to floods to frozen pipes, life in Albany means a heightened risk for property water disasters.
911 Restoration of Albany is fully staffed with a team of expert water damage restoration technicians. These professionals are prepared to be on the scene at a moment's notice, because they know that when it comes to water damage, every second is crucial.
When you call 911 Restoration, you can be sure your call will be answered, whether it's 3:00 in the morning or 3:00 in the afternoon. A water disaster can strike your home or business any time, 24 hours a day, 7 days a week, 365 days a year. So, that's when our experienced techs are available.
911 Restoration even guarantees a 45 minute arrival time, so after you've placed your call, you can rest assured that help will be there in less than an hour.
Once they arrive, they stay until the job is done. The IICRC certified water damage restoration techs are truly full-service. They don't just provide water cleanup; they also perform a thorough mold inspection and professional removal of any colonies they discover.
No matter the size of your disaster—whether it's a ceiling leak, roof damage from an ice dam, or a pipe burst flooding your entire basement—the compassionate technicians at 911 Restoration will resolve your damage swiftly and completely.
You may feel like you're the in the midst of insurmountable disaster, but don't worry. 911 Restoration knows how to repair and renovate, leaving your property better than new. Call us now for emergency service and immediate solutions.
Emergency Water Damage Services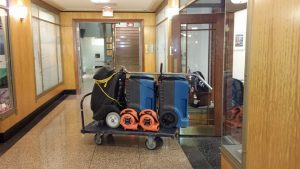 It's a familiar scene for so many residents and business owners in Albany when temperatures creep below zero. Pipes freeze, then burst, spraying gallons of water onto their properties. It's a shocking, almost paralyzing experience. The basement floods at an alarming rate. You scramble to rescue beloved belongings. Water saturates the carpet, and you wonder: "Will there be mold?"
A property water disaster calls for more than just water removal. That's why 911 Restoration of Albany guarantees comprehensive service. Experienced water damage restoration techs use professional fans to fully dry out and dehumidify the flooded area. However, that's not where the service ends . . . or even where it begins.
When staff arrives at your property, they rescue any belongings that are still at risk, packing out and storing unharmed items so they'll be protected during the remediation process.
Then, they not only dry out the area, they also inspect for any damages requiring repair. They check for water damage on sheetrock. They tear down and replace ruined drywall. They even offer emergency boarding up, roof repair, and leak detection.
Your designated technicians also keep an eye out for potential lasting damage by performing a full mold inspection. They check every surface and every dark corner to ensure no colonies have formed as a result of water exposure.
At 911 Restoration of Albany, our philosophy is that we can't call it water damage restoration until your property is fully restored. That means removing the problem, removing the damage, and removing the threat of future catastrophe.
Call us today and let us get you and your property back on your feet.
Schenectady's Best Mold Removal Company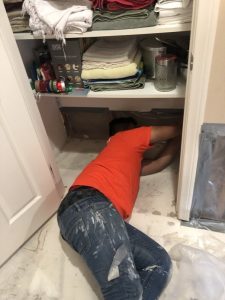 Mold spores are always present in the air around you. Even if you don't have a mold infestation, they sweep into your home through your heating ducts, on your dog's fur, and even by clinging to your clothing and skin.
When a water disaster strikes, mold spores are ready and waiting for a damp place to land. And it only takes 24-48 hours for settled spores to turn into a full-blown colony.
911 Restoration realizes that water and mold go hand-in-hand. That's why our water damage restoration professionals are IICRC certified in mold removal. When your home or business has been exposed to water, you can count on the 911 Restoration staff to perform a free visual inspection for property owners. They find mold in places you didn't even think to look, and once they discover it, they employ professional-grade mold remediation tools to eliminate the infestation safely.
Mold removal can be a risky task for non-professionals. Disturbing a toxic variety like black mold can release dangerous mycotoxins into the air. Not to mention, home cleaning supplies are no match for a thriving colony.
For thorough and lasting mold remediation, you need the help of a certified mold removal company. In fact, you don't just need it; you deserve it.
After all, you've worked hard to make your home or business the haven that it is. When water damage strikes, don't call just any water removal service. Contact 911 Restoration of Albany, and give yourself—and your property—a guaranteed Fresh Start.
Servicing the cities of Schenectady, Albany, Scotia, Delanson, Princetown, Mariaville Lake, Rotterdam, Glenville, Duane Lake, East Glenville, Duanesburg, and surrounding areas.