Mold Removal in Amsterdam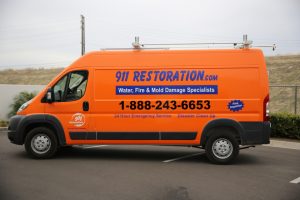 Living in Troy, many residents are familiar with the conditions that can cause a water damage emergency. Whether it's a burst pipe or heavy winds and rain, you have to react fast. It can be hard to know what to do in the moment when your property is becoming flooded, but we urge you to contact the water removal specialists at 911 Restoration of Albany. After water removal services, you may think that you're in the clear, but it's important to have our trained technicians perform a mold inspection on the property as well. Our mold cleanup techs are available around the clock, and have years of experience. You'll receive your own Fresh Start for both you and your property. For your own mold cleanup services, contact 911 Restoration of Albany today.
Mold Remediation When You Need It Most
Mold cleanup may seem like an unnecessary step after a water damage emergency in Amsterdam. After all, why can't you just go ahead and remove it on your own? Unfortunately, mold can be incredibly harmful from the top down to the property. It can sprout up as soon as 24 hours after any water damage emergency, so it's important to act fast for your own mold decontamination services.

There are a few mold warning signs in Cohoes that you should be aware of. For starters, if the air is damp after a burst pipe, have the inspection techs on the property immediately. In addition, if books or furniture are damp to touch, that could be a sign of infestation on the property. There's no need to worry if you've spotted spores in the crawl space or are experiencing "popcorn ceiling" in Albany. Our trained technicians have years of experience in mold removal and have seen it all. Your property will be clean and dry in no time.

Many of our customers are concerned if mold remediation services are covered by property owner's insurance. There is no need to worry, because our mold cleanup technicians in Troy accept all forms of insurance. A free visual inspection for property owners only is even offered. Our goal is to make sure that you pay as little out of pocket as possible for quality mold decontamination services.

Not only will your property be thoroughly inspected for mold, additional cleanup services are also offered as needed. For example, all of your unharmed belongings will be packed up and placed to the side during the remediation to ensure that they remain dry during the process. Complete structural dehumidifying and drying services are also offered on an as-needed basis. From top to bottom, you won't receive better mold cleanup services anywhere else. Contact 911 Restoration of Albany for your own quality mold decontamination today.

Quality Mold Removal Services After Burst Pipes
After a pipe bursts or is frozen on the property, many property owners think the only step that they need to take is water removal services. The truth is, 911 Restoration of Albany also performs quality mold remediation services, so you can get your property back to normal in no time. The mold cleanup in Troy will be swift, so you won't be kept waiting.

Many property owners in Cohoes think that mold isn't an issue that requires professional help. However, our mold inspection technicians urge you to use our removal services as soon as possible. Black mold spores on the property can lead to difficult symptoms such as coughing, sneezing, and headaches. In order to alleviate these as soon as possible, call our techs for a remediation.
Our technicians go above and beyond when it comes to mold cleanup services. They use hazmat suits and infrared technology in all nikd inspections in Cohoes. In some instances, third-party laboratory testing is even used to get the most accurate reading possible. When it comes to mold removal, you can trust your precious property in the hands of our trained technicians.
Not only are our technicians trustworthy, they truly understand your needs during a mold removal. They have been in the mold decontamination business and have seen it all. They sympathize with your needs and operate with an optimistic attitude. The mold cleanup will be done before you know it.
With the comprehensive approach of the mold removal technicians, you can rest easy knowing that your property is in the right hands. They have the tools and the years of mold cleanup experience to handle it all. The removal techs believe that you deserve a Fresh Start after spotting mold on the property in Amsterdam. For your own mold decontamination services, call 911 Restoration of Albany today.