Mold Removal in Albany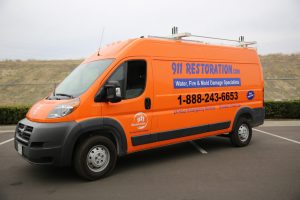 Spotting mold on the property can be alarming for any property owner. Simply spotting the black spores in the crawl space or basement in Troy can feel like the end of your property. 911 Restoration of Albany is here to tell you that's not the case. Our trained mold removal specialists 24/7/365, and respond to all mold decontamination calls within 45 minutes. Both you and your property will be treated to our signature Fresh Start with an optimistic attitude. Our mold remediation technicians are IICRC certified with years of experience, so you can be certain that you'll receive the best mold removal services possible. Call 911 Restoration of Albany for your own Fresh Start mold decontamination services today.
Timely Mold Remediation Services When you Need It
Black mold on the property may seem like a pesky issue, but not one that requires removal specialists. Let our technicians show you the importance of mold removal. Mold on the property can destroy it from the inside out. If you have noticed any dampness in the air or pink spots on the walls, call our removal technicians immediately.
Not only is mold difficult to deal with for your property, it can be hazardous to your health as well. Mold can cause difficult symptoms to deal with, such as asthma, allergies, or bad headaches. Mold can sprout up as quickly as 24 hours after any water damage emergency, so it's important to take care of the removal as quickly as possible to avoid any of these symptoms.
Make sure to be aware of all the warning signs for mold starting to grow in Albany. If you spot any black or pink spots in the rafters or crawl space, contact our remediation specialists immediately. If any furniture is damp to the touch or if there is a dampness in the air, that is also a sign that you need a mold inspection immediately. Not to worry, our decontamination technicians will be out on the scene as soon as possible.
Many property owners wonder if they can even afford mold remediation when they need it. There is no need to be concerned, because our removal technicians accept all forms of insurance. They even offer a free visual inspection to property owners only. Property owners can rest easy knowing that their mold removal is in the hands of our trained specialists.
When it comes to mold removal, the last thing that you want to do is delay. Not only can the spores be harmful to the infrastructure of your property, but they can be hazardous to your health as well. Call 911 Restoration of Albany for your own quality mold remediation today.

A Fresh Start After Mold Removal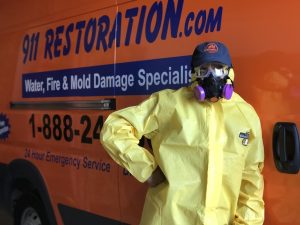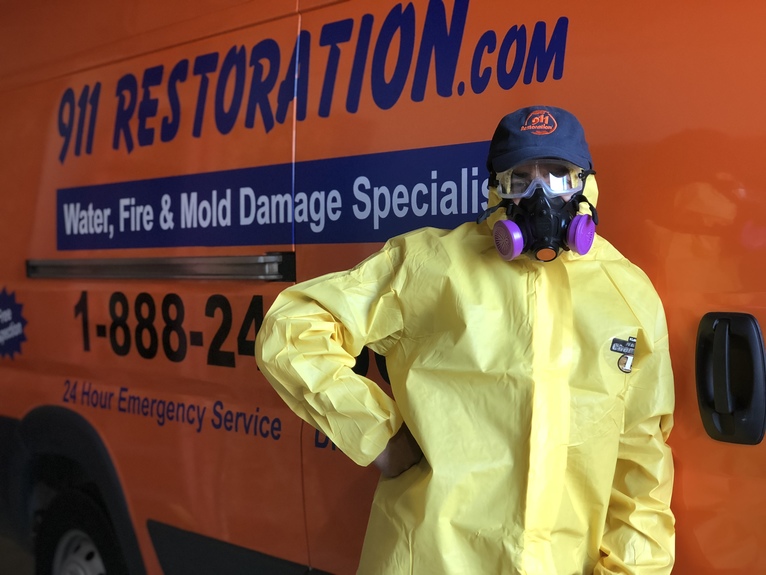 Many property owners are rightfully concerned about the future after a mold breakout on the property. There is no need to worry though, because our trained techs go above and beyond to restore your property after a mold remediation. The mold decontamination will not be the end of your property, but rather an opportunity for a Fresh Start.

Not only do the cleanup techs understand your needs, they go above and beyond to ensure that your property is in the best condition possible. Any unharmed belongings will be packed up and placed to the side to ensure that they remain that way. In addition, a thorough mold inspection is offered. Our techs use hazmat suits, infrared technology and even third party testing to make sure that they get the most accurate reading possible.
It may seem very simple to try to scrub and get rid of the spores in the basement in Albany, but the techs urge you to leave it to the professionals. They have years of experience, so your mold cleanup is safe in their hands. Plus, they offer structural dehumidifying and drying, so your property will be clean and dry from the bottom up after their inspection services.
As soon as the mold cleanup techs arrive on the property in Cohoes, they do their best to go above and beyond to provide you with the best services possible. Not only will you receive a quality mold remediation, you will feel peace of mind throughout the entire process as well. They know that water damage restoration doesn't end with simply water removal, so they make sure to go the extra mile to offer mold removal services as well. For your own Fresh Start mold cleanup, call 911 Restoration of Albany today.